Tonight as I was checking out at our local Wal-Mart I was asked to present my I.D.
I have been asked to present age verification for many things in my life but never for a 0.07 oz. tube of this...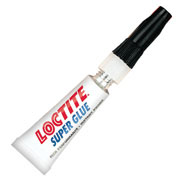 Well, apparently you have to be at least 18 years old to purchase super glue these days.
I can't say that I minded though...in fact, after almost a decade and four children later, I was quite flattered.
I walked out of the store with a new spring in my
step
waddle and feeling just a little lighter and a little younger.