Today's meatless recipe is baked salmon with sauteed mushrooms. This meal is super fast and easy and is one we'd serve when we have company.
NOTE: My apologies. I've been under the weather, and my Mr has been out of town, so no fancy cooking/baking going on at our house. All pictures are taken courtesy of the wonderful WWW...maybe one day I'll replace them with my own...we'll see.
Salmon: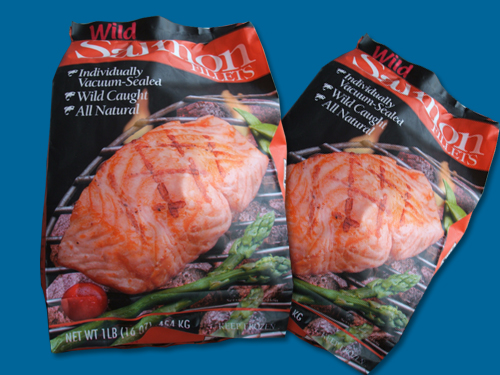 This is the package we buy. It always comes out tasty and is much more affordable than fresh salmon.
Pour a small amount of E.V.O.O. over the salmon and in the bottom of a pan. (I like to use a glass (pyrex) baking dish). Add white wine until it reaches about halfway up the fillets (optional). Sprinkle the top of the fish with dried herbs of your choice. Bake at 350 degrees for about 20-30 minutes, or until the fish is cooked through but not dry (cooking time will vary based on the size of the fillets so if this is the first time you've baked salmon check it every few minutes after the first 15 min.)
Tip: When the fish is done it should still be very moist but should flake when you poke it and twist with a fork. (I hope that makes sense?)
While the fish is in the oven saute a container of mushrooms. I like to slice or quarter mine and saute them in E.V.O.O. with a clove of fresh minced garlic (more or less for taste. garlic powder may be substituted), salt, and pepper.
When the fish is done take it out and re set the oven to broil. Place the sauteed mushrooms on top of the salmon and sprinkle (read: cover) with mozzarella and grated Parmesan/Romano cheese. Place under the broiler (with oven door open or oven light on so that you can watch closely...the broiler works FAST) for about 1 minute or until cheese is melted.
SIDE IDEAS:
This tastes great with any combination of roasted/baked potatoes, wild rice, or roll (choose one carb) and asparagus, steamed green beans, steamed broccoli, or broiled squash (choose one veggie).
Carbs:
Baked Potato
Roasted Red Potatoes and Sweet Potatoes with Herbs
Wild Rice
Whole Wheat Roll
Grilled Asparagus
Steamed Green Beans with Slivered Almonds






Steamed Broccoli
Sauteed Yellow Squash